Alcantara® upholstery fabric
133,48 € / lfm
Inkl. gesetzl. MwSt.
(94,00

€

/ 1 m²)
Delivery Time: approx. 3-4 working days
Width: approx. 142 cm
Delivery: from 1 running meter
Compare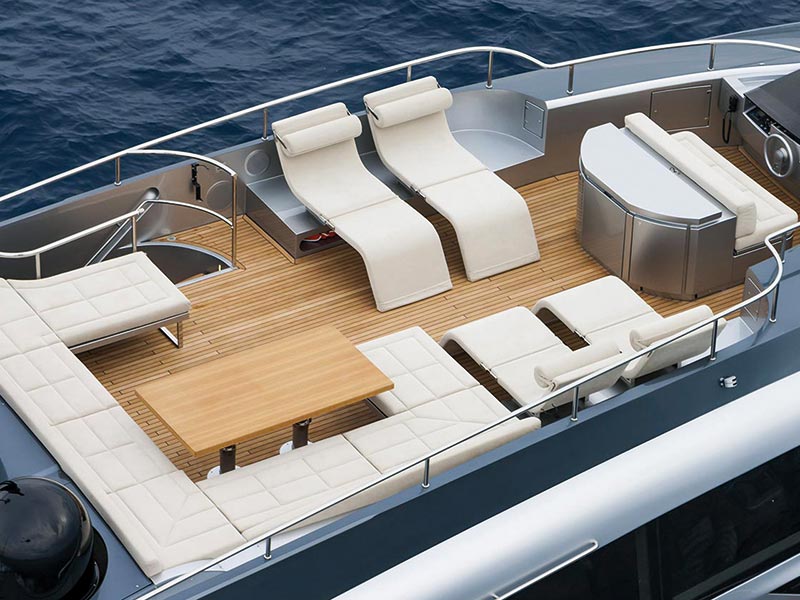 ALCANTARA upholstery fabric application example
ALCANTARA® – exzellent upholstery fabric
A wide variety of applications as well as specific solutions and excellent results are possible with the ALCANTARA® upholstery fabric. A material with excellent grip, unmistakable softness, elegance and colors that salt cannot harm, together with the high strength and ease of care result in a unique combination. In addition, ALCANTARA® upholstery fabric guarantees special resistance to all atmospheric influences. Shiny colors, light and tear resistance, breathable, extraordinary suppleness are the characteristics with which the interior of yachts can be optimally equipped. ALCANTARA® upholstery fabric is lightfast and heat-resistant, making it ideal for outdoor areas on boats and yachts. ALCANTARA® upholstery fabric feels warm in winter and cool in summer. The material can be washed and ironed.
Properties
Lightfast according to AATCC-16A ≥ 4 gray scale
Colourfast according to AATCC-61 + 132 ≥ 4 gray scale
Tear and tear resistant
Abrasion-resistant according to BS 5690/91 ≥ 30.000 cycles
Sea water proof
Dimensions
Total thickness: approx. 1,0 mm ± 0,1 mm
Width of goods: approx. 142 cm
Delivery: from 1 running meter
Roll length: approx. 45 – 50 m
Areas of application
Boat, yacht and shipbuilding, home and leisure, caravan and vehicle equipment.
Composition
Top 68% PES, 32% PU
Back cover 65% PES, 35% BW (CO)
Total weight / m² approx. 350 g
Our samples are color samples from our sample store, the color of which may differ slightly from the stock goods.